A Day in the Life of Holy Family Homeschool
A day in the life of a homeschooling family:
5:36 am- Mom is up making coffee and enjoying a little quiet time. I let the little dogs out and often gather the glasses left out from the night before. Sometimes there is pan "hope soaking" from the previous night's dinner. We call it hope soaking because the one responsible for washing it soaked it hoping someone else, ie me, would wash it later.
6:30 am- Daughter comes by to borrow car to go to her nanny job. She is married and lives next door. She graduated in 2011 and began online classes to be a teacher. She likes to come a few minutes early to chat
6:45 am- Our early riser is up letting his dog out. He is one of the 15 yo twins. He often quietly moves about the house and journals until his two brothers are up.
7:00 am-Doing my morning reading and praying while waiting for my husband to sit up and sip his coffee to begin waking up for the day.
7:15 am-Hubby is awake; time to pray the Divine Office/Morning Prayer together.
7:30 am- Hubby remembers that the other twin was supposed to be over at Popo's house to help dress MeMe for a doctor's appointment. I rush into the room and awaken him. It never fails; he always sleeps through his alarm. He rushes out to see if, by chance, Popo is running late too….He already left. ;(
7:37 am- Son is back and upset with himself. There is no need to barrade him as he has already punished himself amply. He calls Popo apologizing and offering to be there when he gets back. Meanwhile, we sit down at the table to offer morning prayers and discuss the commitments for the day. A few months ago, my hubby instituted a project management type program with our boys. We have a white board divided into four sections, Backlog, Committed, Started, Done. Each boy has their own section.
Given the standard parameters of English, Math, Science, Literature, Religion, Scouting, World Geography/History, Social Studies, Spanish, Information Systems, Behind the Wheel the boys have three week iterations to complete a specific amount of work. They decide, with our guidance, what they will accomplish during the three weeks with SMART goals.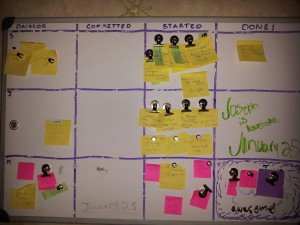 S=specific
M=measurable
A=attainable
R=relevant
T=time-boxed
My husband is a software engineer and works from home which really makes our homeschooling experience even more enriching. He takes an active roll in their education making our children very well-balanced.
8:00 am- Meeting is done and boys are eating breakfast.
8:15 am- Twins are working on Algebra 2. The younger twin helps the youngest son, 13, with his Algebra.
12:00 pm- Fairly smooth morning for the boys. Lots of reading and even a some instruments practiced. After lunch we sit together, as a family, to watch our weeky dvd program about our faith.
1:45 pm- Leave for homeschool orchestra group. All three sons play in the orchestra which serves as one of our socializing events.
3:15 pm- Pick up boys from orchestra and stop by the store for a few items for dinner.
4:00 pm- Boys work on chores or read until it is time for one of them to cook dinner.
5:00 pm- Tonight they all work on a predetermined meal. Twice a month they sit together to make a menu for the days they cook. They provide me with the menu and the list for grocery store as well as the nights that I or my husband will be cooking. While they prepare the meal, we pray a rosary.
6:00 pm- Leave for basketball practice with the other homeschoolers and the sponsoring Christian school. This is another opportunity for socializing.
8:00 pm- Head home from practice. Boys shower and have a little computer time.
9:30 pm- Boys head over to Popo's house to have their nightly bowl of ice cream and watch football or RFDTV.
10:30 pm- Bedtime-Goodnight!